Taking a break from your regular self love & eating disorder recovery programming to talk about what's really got my passions flowing lately – travel! Lots of you messaged me on Instagram saying that you're going abroad for vacation or a semester soon, so I wanted to share the top 10 things I'm so glad I've had with me as a solo traveling chica…and also a few things that I should have left at home. Before I get to the goods, here's a couple of disclaimers:
I based this post off of my journey across Europe. I'm sure it would vary if I was in say, Canada or the Middle East. But most of the items I'm recommending are great for travel in general and specifically those trips you take alone.

I'm not a travel blogger. Nobody is paying me to say this stuff. No affiliated links in this post, so if I link to Amazon or a company's website, it's for your gain and your gain only!
Now, I'm a positive kinda person so I'm going to start off with the 10 best things that I brought abroad, and save the crappy calls for the end. If you want to start there though, I'm not gonna stop ya. Cheers.
I have to put this at the top of the list because if there's just one thing you buy before you go, make it this bag. This will be the longest description, but bear with me. I stress the value of this purse because I was really on the fence about the purchase. I wondered if all the clips, locks, and RFID protection was really necessary. To be frank it seemed excessive to me. But I can't tell you how much peace of mind this bag has given me. I won't list all the different pick pocketing scams that you'll find in Europe (and many other parts of the world, I'd imagine) because there's enough of that on other blogs. But trust me, it's a huge issue. I can't even tell you how many friends and strangers I talked to on the bus or metro were SOL because they lost their phones / travel documents / etc to pick pockets. You don't want to have to deal with that. And in my opinion, this bag is the best at preventing theft.
The feature I use most is the clip on the zipper. The clip rests on the lefthand side of the strap, and the main pouch has two zippers. So when I slide them to the left side, I can fasten the clip on the outer zipper, meaning that someone can't unzip my purse quickly before I even notice that someone was standing too close. These pick pockets are professionals and they move fast. So the zipper feature keeps them from using their strongest asset of stealth. One more thing about the zipper feature – you of course, should always be aware of your belongings. But what about when you decide to have a night out and are killin' it on the dancefloor, your bag swaying about? I love to dance, and I don't want to be paranoid in a sweaty crowd that my shit is going to go missing. So I lock the zipper and move and groove to my heart's desire. I also wear this bag as a cross-body more often than not. If I'm on a bus or metro or in a crowded club, I want to make sure I can see it at all times. But I also feel comfortable having it on my shoulder because of the zipper lock for just walking on the street.
Look, I know the bag isn't a looker. And as someone who loves her Kate Spade and Coach purses, that was a tough pill to swallow for me. But you can show your style through your clothes, because a not-so-cute bag is a small price to pay to keep your valuables safe. I won't drone on about the other features because you can read about them here, but I will admit that I didn't buy this bag at full price. I paid $35 for it used on Poshmark instead of what it was listed for as new at $75. But if I had to do it again, I'd pay $100 or even $200 for it. It's less than what it would cost in both money and hassle if my things got stolen.
When I was 10, my brother went backpacking across Southeast Asia. My mom and I met him in Thailand at the end of his 2 month trip and before I could even hug him hello I had to pinch my nose because all I could smell was his rancid backpack. The result of stuffing dirty laundry in it for so long had made the backpack itself unbearable to be near. So before I left on my own 2 month adventure, I did some research on how to best seal off and transport dirty laundry. Because it's too much of a pain in the ass to try and wash clothes in every new city. Laundromats are time consuming and can be expensive.
Everyone online seemed to be in agreement that Ziploc travel bags are the cheapest and most effective option to keep odors sealed and not take up too much space in your bag. So I ordered the 3 pack on Amazon, left 2 at home, and that was that. Tons of people I've met in my travels have expressed that they wished they had one too, because it really works great at what it's supposed to do. And I'm happy to report that my bag still smells fresh to death 🙂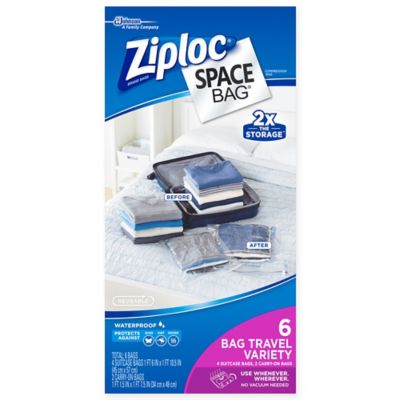 3. More underwear than you think you need
Speaking of dirty laundry and the hassle of laundromats, do yourself a favor and just pack a lot of underwear. It can roll up super small and you'll be glad you have more than a week's worth when you get sweaty and gross after a midday hike and want to change pairs. Lots of people I met have admitted to buying more underwear instead of doing laundry on a few occasions so cover your bases (and booty) and just bring a bunch. Or you can do what I did at the beginning and shamelessly wash them in the sink of your hostel and hang them on your dorm bed to dry. No judgement. #inmycalvins ??
A lot of you may already have electronic readers, but I actually bought this specifically for my trip and next to the Pacsafe purse, it's the best purchase I made. I legitimately cannot believe the Kindle Fire 7 sells for $50 brand new, not on sale or anything. It's the perfect size – a big enough screen to read clearly and small enough that I can take it in my purse everywhere and not be annoyed that it's taking up a bunch of space. That's important to me, because traveling alone I get a lot of down time. Whether it's at a park or at lunch by myself, I want to be able to pull out my Kindle and read whenever I have a moment.
And the picture quality is insanely good. I use it mainly for reading, but I've watched videos a few times on it and it's so HD. Not to mention the battery lasts for days on end, especially if you put it on Airplane mode when you're not using the internet.
5. Backup glasses / contacts
Did you notice that like two weeks after I left for Europe that I started posting pictures and stories in new, navy blue frames? Maybe you thought – Ooh look at Cay getting into new fashions abroad! Not quite. I actually left my favorite glasses from Warby Parker in a hostel in Italy and after a lot of hassle, didn't end up getting them back. I'll spare you the long version, but from there I had to calculate shipping costs from the US to France, the US to Spain, etc to see if that would be more or less expensive than getting new ones made abroad. And if I went that route I would've had to book a hostel way in advance so I would have somewhere to receive the glasses, something I don't like to do.
Of course getting them made somewhere would mean having to stay in one location for at least a week, another pain when you want to go where you please when you like. I ended up opting for the second option, and actually got very lucky with how quickly my new glasses were ready and that it didn't put a huge dent in my budget. The lesson here is always bring a backup pair of glasses even if you have contacts too because you're going to want to switch off especially when allergies act up or the wind is blowing hard. And bring extra contacts if you wear those. And have your prescription on your phone just in case! Just do it okay!
6. One lightweight, black sweater
I have this thin, open sweater / cardigan thing that I got at Forever 21 for $7.99 that I bring everywhere. It's thin enough that I can stuff it in my purse and provides a little something to put over my shoulders when the train or bus has AC on. This is more for when you're traveling in summer months or to a warm climate. If you're going to the snow or something, you probably want something heavier. But for me, the majority of my destinations were hot hot hot so I didn't want to waste backpack space on a bulky coat, or lug it around when I'm on the go. I alternate between this little black sweater and a long sleeved denim shirt, but the sweater is black and most versatile.
7. Nike Free Run sneakers
Like the Kindle Fire, I bought these shoes specifically for my trip. I had other Nike sneakers, but I wanted something that could double as both an everyday shoe and a running shoe if I find somewhere to break a sweat. My other option was to bring designated running sneakers and Converse for everyday walking, but again, space in the backpack is limited. So after reading lots of recommendations online, I scooped these up at a Nike outlet for $85 and am very glad I did. They're ridiculously comfortable to walk in, the black / white goes with everything, and are also supportive enough for logging a few miles at a time. Of course, if you are an avid runner and plan on running frequently / long distance, you may want a different shoe. But if you're like me and just want to run every so often and use them more for comfy walking, make the Nike Free Runs the one sneaker you take. PS I brought 3 pairs of shoes total: these, a pair of black flip flops, and some lace up sandals with a teeny tiny wedge.
8. Lots of chapstick
Just because my lips got chapped, literally, everywhere. I know I'm prone to that, so I brought a total of like 7 chapsticks and made sure they were strewn about in every single part of my luggage. Seriously, I have two in my purse, one in my toiletries, another two in my makeup bag, and two others floating around because there's nothing I hate more than when my lips crack. Pet peeve!
9. Snacks
This one is more for people with food allergies. I have Celiac disease (you can read more about me and my nemesis, gluten, HERE) so I can't always find something to eat on the go. If you're not allergic to anything and can eat croissants, tapas, and such freely, I kinda hate you. Just kidding, I'm happy you can enjoy all the delicious things that each country has to offer. But for me, and anyone else with food allergies that can make them really sick, it's more complicated.
I brought a bunch of tiny pouches of peanut butter with me before I left Los Angeles which are great because it's high protein, good fat content, and filling when you're in a pinch. But there are also markets everywhere where you can replenish with goodies. I've taken to stocking my bag with non perishables like gluten free snack bars, muffins, and granola, and my personal favorite that seem to be everywhere: rice cake spread with nutella. That way if I get super hungry, I don't have to be miserable until my next meal. I always have something with me.
10. Laptop
Travelers tend to be divided on this one. Should I take my laptop? Shouldn't I? It's a risk because it's expensive and has a lot of your information on it that would suck if you lost. It's also more bulky than, say, a tablet or your cellphone. I opted to bring my Macbook because I know I need to write frequently to stay sane and having to type on a touch screen would make me the opposite of sane. Sometimes I feel excessive with my phone, Kindle, and laptop charging but it's worth it for me. If you do bring your laptop, just keep it with you on trains and airplanes and make sure you lock it up in hostels. Be smart and don't flaunt it.
And the 3 Things You Really Don't Need to Bother with…
1. Eurail Pass
This one's for those adventurous souls making their ways through Europe, as I am. Once again, I consulted the interwebs before purchasing the Global Pass (valid for unlimited travel on 10 days of your choosing in 2 months). Most of the advice stated not to buy the pass, but after calculating what the cost was for all the trains I planned on taking I went ahead and did it anyway. I thought it felt safer and more comfortable, like covering my bases. But buying tickets as you go is no more complicated and as it turns out, a lot less costly.
Why it was a mistake: I knew that a lot of the train trips I'd be taking would require reservations, but I didn't realize how expensive all of those reservations would be. It adds up. For example, the pass itself costs almost $800 and today, I paid an additional 40 euro to reserve my train from Nice to Barcelona. Also, traveling by train is by far the most costly method. Flights between countries can be as cheap as 20 or 30 euro.
So while I absolutely love train travel because of the relaxing environment and the gorgeous scenery, I wish I had more flexibility to opt for air travel when it's cheaper. Or to just buy my tickets without the reservations nonsense when I do want to travel by train. Listen to the majority folks: don't get a Eurail pass.
2. Unnecessary toiletries
Kinda joking about this one, but kinda not. I'm a girl and as such my toiletries bag is overflowing, or so I thought. I've met so many other female travelers recently that make my bag look like slim pickings and here's what it tells me: we ladies bring too many damn products. They take up space and they spill and get everything messy. Cut out what is not necessary and dare to bare a bit more of your natural side while you're exploring. Pro tip: Cut down on what you have to carry by using one toiletry for multiple purposes. I know technically a shampoo is not supposed to also be my body wash, shaving cream, and beauty blender cleaner but it works just fine.
3. Skyroam global hotspot
I bought the Skyroam for similar reasons to buying the Eurail pass but the main one comes down to a sense of security. I didn't want to have to worry about changing my SIM card every time I changed countries, and I knew I never wanted to be without wifi and the ability to load Google Maps in case of emergency. So I bought the Skyroam for $99 and with it, paid almost $500 for two months worth of 'daypasses' which is how the Skyroam works. You pay $10 a day for 24 hours of data. Or if you buy 5 daypasses at once (in bulk in my case) you pay $8 a day. You choose when to activate them, and once you do you have 24 hours before the data is up.
Why it was a mistake: A couple of things here…the data speed caps after a certain amount which is annoying but understandable. I knew this was an expensive option going in, but I thought it would be easier than having to change my SIM card and buy different phone plans. However, once I was on the road I realized most SIM cards and plans work across the entire EU and if I had known that, I probably would have never bought the Skyroam. It's glitchy. The customer service isn't great. And it's really expensive.
*In slight defense of the Skyroam: I will say that in terms of an emergency blaket, it makes me feel good knowing that if I have a backup daypass on reserve, I can turn it on and get GPS to work almost anywhere that I am. So I wouldn't completely advise against buying a Skyroam and having it in your purse with one or two daypasses for emergencies, but don't rely on it for your primary form of data. Get a SIM card for that and just use the Skyroam if that fails. Because buying the device itself is only $99; it's daily daypasses that break the bank.
---
I hope these lil travel tips have been helpful! 
With love and strength,
Cayanne
Want Exclusive Videos?
Subscribe to our mailing list to unlock 10 VIP videos!