You'll find there are self love strides to be made when you stop looking for those little bumps called cellulite you've been taught to fear and hate
In the Dark About Cellulite
I promise that's the only pun I'll make you endure today but I had to throw it in to make LITE of a CELLdom talked about perspective. And that is the notion that some of us out there have no freaking clue what cellulite is (but are also pretty conscious that we should probably be worrying about it). *Raises hand*
Many of you guys have been asking me to do a post about cellulite for awhile now, and I've been hesitant. Mainly because I don't feel qualified given that I don't ever think about cellulite. It's not one of the insecurities I battled during my recovery and if I'm being honest, I don't really know anything about it aside from the fact that it's used as a headline in popular celebrity magazines. Which makes me wonder, should I know about it. And even, should I worry about it? In other words, are you there cellulite? I think it's time we met face to face.
---
What Causes Cellulite?
I know I said I wanted to meet face to face, but I get the feeling the introduction is more likely to be face to thighs. Or face to booty. In women, cellulite tends to accumulate on the thighs, hips, and abdomen and it's main cause – in basic terms – is the break down of the hyperdermis layer of skin and fluid retention in adipose tissues AKA fat cells (The Internal Dermal Institute). What the heck does that mean? It means it's complicated, mmkay? More importantly, it means that cellulite is not your fault. Nor does it make you weird / different / unattractive. I'm not a scientist, just a blogger who did some research hoping to help some other ladies find their way out of the dark about cellulite. So, I'm not going to try to explain the process to you. Instead, I'm going to remind you of all the badass, inspiring ladies who have those distinct little bumps and are still powerful, beautiful, and downright fantastic:
Beyonce (don't believe me, check it out)
My mama
International model – Iskra Lawrence (don't believe me, check it out)
Mrs. Clause of Santa and Mrs. Clause
Mother Teresa (probably)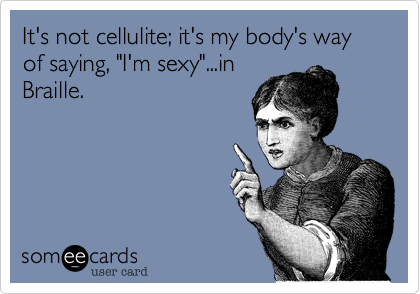 ---
So, Are You There Cellulite?
I've never noticed it on my body, but I'm not about to go looking for it. Honestly, I don't care if I do have cellulite. Statistically speaking, I most likely will have it as I age and especailly after having kids. So what's the takeaway here? What do I hope you'll gain? Two things mainly:
If you don't have cellulite currently, that you'll embrace it (or at least accept it) if / when it arrives as just another change in your body like freckles 🙂
If you do have cellulite, know you're not alone and it's nothing to be ashamed of
Want Exclusive Videos?
Subscribe to our mailing list to unlock 10 VIP videos!